Cruising
Overview

Benfleet Creek provides a gateway to the Thames Estuary and beyond. For local cruising (just a few hours away), we have the Rivers Medway and Swale with their wonderful creeks, towns, pubs and anchorages. A bit further afield (a short day sail), there are the superb cruising grounds of the East Coast Rivers. For a great summer cruise, we are not too far away from the northern coast of France and Belgium and the vast inland waterways of The Netherlands. The one advantage of cruising from our drying tidal creek is that it makes you get out there; to make use of a full day or weekend away sailing. Many of our members have worked the tides for most of their life and still enjoy our unique position. We hold a number of weekend 'cruises-in-company' throughout the summer, many with a drink and BBQ, or a meal ashore, providing a good social get-together.
Typical BYC cruise destinations are:
Calais - The annual Calais Rally takes place on the late May Bank Holiday weekend

Chatham Marina

Medway Yacht Club

Stangate Creek

Up the Thames to London - St Katherines Dock Marina or Limehouse Basin

Harty Ferry

Queenborough

Burnham on Crouch


Brightlingsea
---
Calendar of Cruising Events
Full details of all future BYC 'Cruising' events can be found in the
BYC Calendar
The above link connects to the BYC central events calendar, but has been filtered to Cruising Events only


---
External Links to Cruising Guides and Advice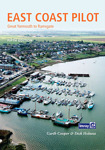 Download various navigation chartlet's from the
East Coast Pilot website: Compilers of the East Coast Pilot Guide Book
including entrances to the River Deben, River Ore and Walton Channel "Stone Point"

Harwich Haven Authority - Containing navigational information for the ports of Harwich
and Felixstow and the River's Stour and Orwell plus surrounding area's.

---
London VTS - VHF "Port" Radio Channels
River Thames and Thames Estuary covering the "Port of London" areas
Port working channels are as follows:

VHF Channel 69 - covering the seaward limit (approximately the Margate-Harwich line) to Sea Reach 4 buoy.

VHF Channel 68 - Sea Reach 4 buoy to Crayfordness.

VHF Channel 14 - upstream of Crayfordness and including the Thames Barrier Zone.


The Callsign for all Vessel Traffic Services centres is "London VTS".
---
Visit Conyer Marina and Conyer Cruising Club
Swale Marina and Conyer Cruising Club welcome visitors all year round and deep mud berths are almost always available. If you are thinking of visiting, call the Marina on +44 (0)1795 521 562 and they will advise you on berth availability and accessibility relative to your draft.

Conyer Cruising Club and Swale Marina
---